James Bond gains the Sony Ericsson C902 for latest movie.
Sony Ericsson has partnered with Metro Goldwyn-Mayer Pictures, and Columbia Pictures release of EON Productions James Bond movie QUANTUM OF SOLACE with their C902 Titanium mobile phone.
The C902, as used by James Bond will become available for a limited period only, and will come with a memory card packed with James Bond goodies, including an exclusive spy style mobile game.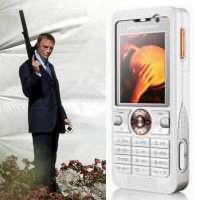 Also included in the special James Bond content will be a full colour movie trailer, exclusive wallpapers and screen savers, and behind-the-scenes interviews with the stars.
In the latest James Bond movie the Sony Ericsson C902 Cyber-shot mobile phone is constantly use by Mr. Bond to capture evidence and to assist in his secret agent mission.
The C902 incorporates a 5 megapixel Cyber-shot camera with a unique slideout lens cover, face detection, auto-flash and Photo flash, BestPic, illuminated touch icons for quick and easy camera use,
This isn't the first time James Bond has used a Sony Ericsson mobile phone though, he used the silver K800i Cyber-shot mobile phone in Casino Royal back in August 2006, and in Die Another Day several of the cast used a Sony Ericsson P900 and T68i.