S60 Touch web browser on Nokia 5800 Tube leaked
There are many ways a user can interact with the new S60 Touch OS with its touch-input interface the S60 Touch UI can accommodate finger touch, but what is most important about the new S60 Touch OS is its web browser interface.
Currently Apple's iPhone Safari browser overshadows the touch-screen market in terms of intuitive use, and then there is the iPhone 2.0 OS which now makes web browsing faster and fuller featured.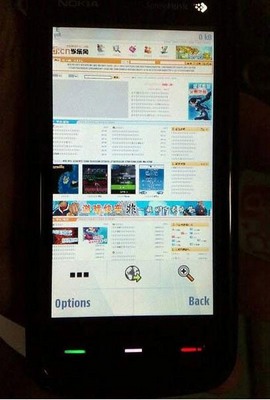 So the real question is just how well will this new S60 Touch OS fare up against the likes of the dominant Apple iPhone 3G competition?
The answer is, we have no idea yet, but these couple of screens showing the touch based S60 web browser on a Nokia 5800 Tube does give us an idea what it will look like.
Somehow I think there will be more and more images of the S60 Touch OS filtering onto the net waves before too long.
Source – symbian-freak.