Home Calling Zone renamed as Talkspot by Rogers
Over in Canada, Rogers has decided it is time to change the name of their in-home WiFi calling service, which is presently known as "Home Calling Zone", yep that certainly could do with a change.
Anyway, Rogers has opted to rename their "Home Calling Zone" to a more customer friendly "Talkspot".
"Talkspot" is now the service which allows customers to make unlimited calls when in their home calling zone.
Feature and prices with "Talkspot" remain unaltered and customers will still require a BlackBerry Pearl or Nokia 6086 mobile phone along with a router with a connection speed of 512 kbps.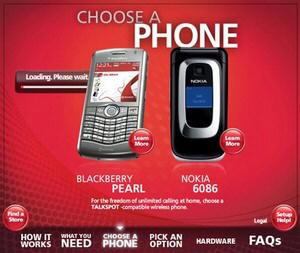 Just so you are aware, the price plans for "Talkspot" are $15.00 and $20.00, and according to Rogers "Talkspot" will work if the user is within 30 feet of their house.
Not much of a change really, but at least now if user's have a problem to report or a recommendation to their friends, it won't be such a mouthful.
Source — mobilesyrup