Two new AT&T certified WinMo mobile phones released from Opticom
Opticon has announced their two new mobile phones, and one has been certified by AT&T, which are the Opticon H16 and the Opticon H19. AT&T has certified the H16, and Opticon hopes to gain AT&T certification for the H19 by September.
The Opticon H16 is a Windows Mobile 5 Pocket PC phone; yes you read right WM5, but don't ask me why. The H19 offers up quad-band GSM/GPRS/ EDGE data, Bluetooth and WiFi, along with an integrated barcode scanner, and that's about your lot.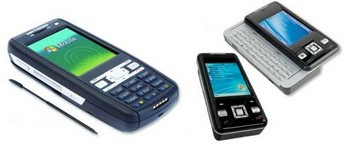 So, onto the Opticon H19, this one takes a little step out of the dark ages with Windows Mobile 6 Pro, it is quad-band GSM/GPRS/ EDGE radio with integrated GPS, Bluetooth, WiFi and that barcode scanner and a full slide out QWERTY keyboard.
Price wise, both H16 and H19 will set you back a quite staggering $1,195.00.
Source — the::unwired