Download for the PwnageTool 2.0.2 and iPhone 2.0.1 IPSW
As the iPhone Dev Team made the latest PwnageTool 2.0.2 available, apparently they noticed a major bug; a bug that was reported to only apply to an Intel iMac running on Leopard, this lead to the PwnageTool 2.0.2 being pulled from the sparkle update system.
The outcome was some confusion at finding the iPhone 2.0.1 IPSW download well on its way moments after; things happened to get more confusing for many iPhoner's wanting to jailbreak their iPhone 2.0.1 firmware.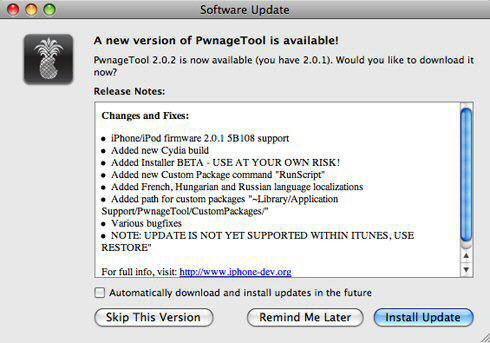 However, the PwnageTool 2.0.2 tool is now on a few different mirrors of which one is zippy share
A small word of warning though, please be aware if you download the PwnageTool 2.0.2 .tbz file for other mirrors you could well end up experiencing some problems.
The iPhone Dev Team have a few mirrors that they also recommend, and they also state iPhoner's should check the SHA1 sum if getting elsewhere.
Source — product-reviews