GTS World Racing game for Apple iPhone released by Handmark: Video
Yesterday, Handmark announced the release of their GTS World Racing mobile game for the Apple iPhone and Apple iPod Touch.
With GTS Word Racing iPhone gamers can steer, break and accelerate their car simply by moving and turning the Apple iPhone or Apple iPod Touch device itself.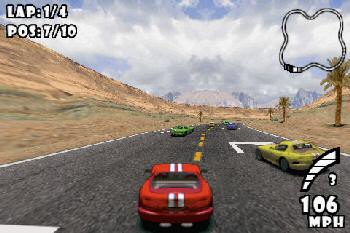 GTS World Racing for the Apple iPhone and Apple iPod Touch includes 64 track layouts along with a choice of multiple cars and difficulty levels.
GTS World Racing has been jointly developed by Handmark Game Studio, Aatraware and Pazzazz Games, and is available exclusively through Handmark via the Apple App Store at a one time purchase price of $7.99.
Furthermore, in addition to the use of the accelerometer feature and the unique interface, GTS World Racing also offers up a choice of music options of which the user can chose the music soundtrack or if they prefer use the music from their iPod to create their own purpose built game soundtrack.
Source — Slashphone