Telus takes care of college students with special rate plans
Telus in Canada knows students need to keep in contact, and although college kids aren't into chatting much this day and age, the one thing they do love is to surf the net waves and send text messages.
Thus Telus has come up with a twin set of student plans which are at least good until 30th September anyway.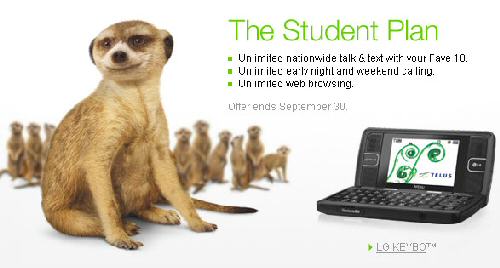 Telus has introduced a plan for mobile phones on $35.00 per month, and another just for smartphones on $50.00 per month.
Both of these rate plans offer the student 200 minutes of talk time, but here's the thing that is sure to catch their attention, nationwide unlimited talk, text, picture and video messaging with their favorite 10.
Furthermore they receive unlimited weekends and nights starting at 6.00PM and also unlimited web browsing, so it's surely got to be a fab deal.
And if you are still not convinced, maybe the $50.00 GAP gift card you get on the $35.00 plan with an LG KEYBO mobile phone will convince you?
Source — Telus via Mobilesyrup and Engadget