Samsung plays Cricket with Messager
A few days ago Samsung's full QWERTY keyboard Messager mobile phone was launched by MetroPC, well now the Samsung Messager has been launched by Cricket as well.
The Samsung Messager mobile phone was launched with the younger person in mind who above all else extensively uses various chatting application to send text messages to their friends and family.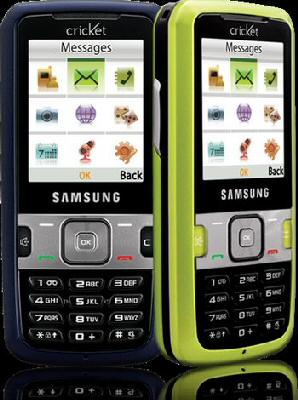 The Samsung Messager features an MP3 player, stereo Bluetooth, 1.3 megapixel camera, the faithful old microSD expansion slot, Advanced Voice Recognition, and a 2.1 inch TFT display.
Pre-loaded on the Samsung Messager is some pre-installed apps along with some games which include, Street Fighter II Champion Edition, Are You Smarter Than a 5th Grader, and Rabble Social Networking.
The Samsung Messager comes in two colours, Navy Blue and Green, is available as of now,from Cricket retail stores and holds a price tag of $199.99.
Image via here
Source — unwiredview via intomobile