E200 Eco environmentally friendly mobile phone from Samsung
Samsung is releasing their new environmentally friendly mobile phone, the E200 Eco, which is manufacturer from bioplastic that is derived from renewable biological sources.
The E200 Eco mobile phone will be Samsung's first totally encased bioplastic mobile handset, and should become available in Europe in September, and as yet no American release date has been announced.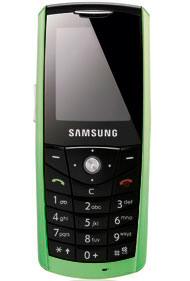 The bioplastic used is a com derivative, and Samsung claims to be manufacturing the handsets "using techniques that eliminate harmful materials like lead, cadmium and mercury," and "the F268 and the new E200 Eco devices and their chargers are also free of a common flame retardant that can harm the environment."
A report in the New Your Times states that other mobile phone companies are also using bioplastics in their consumer electronics, companies such as NEC and Nokia.
Nokia also is planning to reduce the amount of toxic materials in their batteries, and in doing so"in markets like the US, Nokia encloses a pre-addressed, postage-paid envelope in sales packs, providing customers an easy method for returning used products for recycling, at no cost to them."
Image via here
Source — hothardware