New Noise Blackout feature with Jabra BT530 Bluetooth headset
The new Jabra BT530 with Noise Blackout feature has been announced by GN Netcom, and according to GN Netcom this Noise Blackout feature reduces ambient sound without compromising voice quality.
The Jabra BT530 is the first Bluetooth product to feature the new Noise Blackout technology, which has been developed by GN Netcom. Noise Blackout uses dual microphones to capture sound, intelligently filtering background noise only.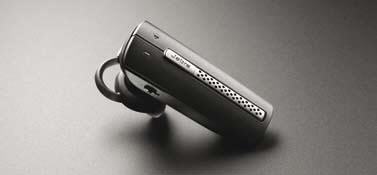 "Used together with advanced DSP technology and Audio Shock Protection that monitors incoming audio volume, sound is balanced to filter out background noise, leaving both sides of the call with a natural sounding voice quality."
The Jabra BT530 weighs .35 ounces and specs are as follows: Noise Blackout technology; High Performance with Bluetooth 2.0, including Enhanced Data Rate (EDR) and eSCO; A2DP & DSP technology; Multipoint technology; Auto-pairing.
With the Jabra BT530 also comes: 8 ear gels and one ear hook provided for added comfort; Micro USB Charger Connection; and has Acoustic Shock Protection; Dual microphone, with 5.5 hours talk time and 250 hours standby time.
The Jabra BT530 will be available at stores beginning of September for roughly $99.99
Source — slashphone