Construct website via mobile phone with new app
At one time the internet was hampered by wired connections, thus the shift to wireless was inevitable, and now it is beginning to shift further with the world of wireless mobile phones, so much so that in no time at all your mobile phone will be able to do virtually everything your computer can do.
Taking mobile internet that one step further is a first of its kind mobile application from www.mobisitegalore.com who have launched an app for mobile phones that can be used to construct mobile websites with the help of GPRS.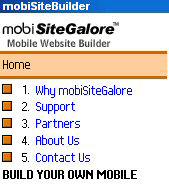 The private limited Chennai based Software Company Akim Technologies provides a user friendly app to build and host your website on a mobile phone which results in the user being able to construct their own custom website optimised for use on mobile phones.
Mr S Prashanth, CEO of Akmin Technologies said: "We offer the technology free of cost to the customers. Unlike the web version, the screen in the mobile version will be customized and user-friendly to enable even lay persons have their own websites. No technical knowledge is required and no downloads needed. Mobile users can build, publish, manage and share mobile websites."
Akmin Technologies claims to be the first in the world to provide this type of application.
Source — mobisitegalore via newsline365