Blackberry Bold available from Rogers in Canada August 21st
If you have been keeping up-to-date with the latest happenings with the launch of the blackberry bold you have probably heard by now that tomorrow, that's Thursday 21st August it will available in Canada, which is Blackberry's hometown, so the long awaited arrival is upon us.
If you are in Canada you will be able to pick this sophisticated and sexy hand set up at Rogers, the price has not yet been disclosed but rumour has it, the price will be around $300 and $400. It's also looking likely that the Blackberry Bold will be available with other carriers by the end of this week.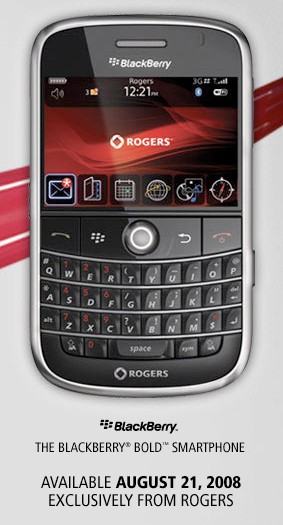 But before you start cart-wheeling to your nearest stockiest there has been no other release dates confirmed, but as soon as we know the Bold is coming to a town near you, rest assured we will let you know, how could we let you miss out on the spectacular Bold with Blackberry's most vivid display ever, a 2-megapixel camera with video recording capability, and a media player for watching movies and managing music collections. Need we say anymore?
Source: engadget