Mobile Reader app for BlackBerry by Wall Street Journal
The word is the Wall Street Journal has launched a wireless app for Research In Motion's BlackBerry smartphones. The free WSJ.com Mobile Reader application allows the BlackBerry user to view headlines, full articles and summaries, while previously views articles will "remain active" for sometime after the user loses wireless connection.
BlackBerry users will be able to customise the content based on keywords, category lists and other criteria, and will also be able to track stock quotes, specific companies, and headlines, although there will be a 30 minute maximum delay.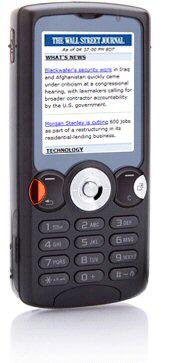 Content will be delivered from The Wall Street Journal Digital Network, WJS.com, the newspapers, MarketWatch.com, AllThingsD.com, and Barrons.com.
At present there are no plans to charge for the WSJ.com Mobile Reader, but they are planning to show adverts from an unnamed advertiser next month, and will eventually make available certain content that users will need to subscribe to.
Source — WSJ via news.yahoo and phonescoop