Sprint to launch Touch Diamond in September at $299.99
We all know Telus grabbed the honours of being the first to launch the HTC Touch Diamond in North America, however Sprint will not be that far behind.
Word has it the Sprint will be taking delivery of the THC Touch Diamond sometime in September, and will be shipping them out at a rate of knots for the sum of $299.99, that is of course on contract and after any rebate.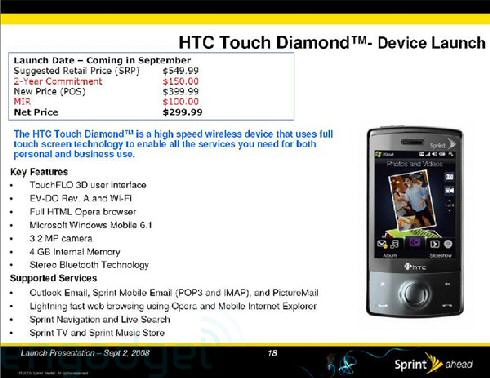 For their hard earned $299.99 the buyer will gain the Sprint HTC Touch Diamond with its 3.2 megapixel camera, Windows Mobile 6.1 offering up EV-DO Rev.A, and a nice 4GB of internal storage.
So there it is, soon our American buddies will be gaining the HTC Touch Diamond, shame Telus had to get in there first though, but then I guess the likes of Sprint and AT&T can't always have it their own way can they.
Source — Engadget