fring adds 6 Nokia mobile phones to their list
fring is spreading their wings and taking on-board more mobile phones, firstly they announced they were supporting the stylish business slider phone the Nokia E66, and then soon followed an announcement that fring was to also add Symbian 9.3 based mobile handsets to their ever growing list.
To be more specific, fring is now compatible with the Nokia N78, the Nokia 6550, the Nokia 6210, Nokia 6220 and the Nokia 5320, all run on Symbian 9.3 with S60 3.2 Feature Pack 2.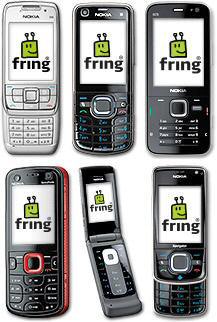 "fringâ"¢ is a mobile internet service & community that enables you to access & interact with your social networks on-the-go, make free calls and live chat with all your fring, Skype®, MSN® Messenger, Google Talkâ"¢, ICQ, SIP, Twitter, Yahoo!â"¢ and AIM®* friends using your handset's internet connection rather than costly cellular airtime minutes."
Fring have also announced the intention of adding the Sony Ericsson G900 to their list as soon as they can.
Source — fring via intomobile