Knalihs Athem sparkle up Apple iPhone 3G with 475 diamonds
Swiss Luxury designer and Jeweller Knalihs Athem has announced their own glammed up diamond encrusted Apple iPhone 3G handset.
I guess someone must have the cash to throw away on these ridiculously priced iPhone 3G's, because they certainly aren't affordable to everyone.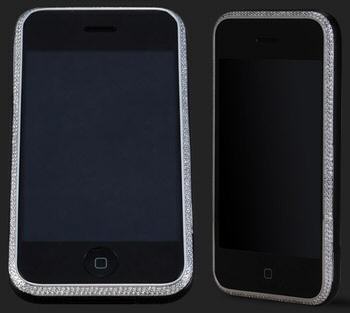 This made-for-the-rich Apple iPhone 3G is encrusted with over 475 of the finest quality brilliant cut diamonds with a carat weight of 3.75 carats.
Knalihs Athem will only create 50 of these diamond encrusted iPhone 3G's worldwide and each will be accompanied by the relevant official diamond grading report from a gemological laboratory.
Apparently Knalihs Athem will offer the first ten diamond encrusted Apple iPhone 3G's as a price of only $10,000, after which the price will increase sharply.
So I guess if you really want one of these then being among the first ten it probably the best bet, but then again there's so much more one can do with $10,000 isn't there?
Source — Athem via intomobile