Nokia issue press releases for N85 and N96 mobiles
Nokia has issued a press release unveiling their N85 mobile handset, the latest multimedia computer to set new standards for mobile entertainment.
The Nokia N85 brings the users a 2.6 inch OLED screen, and incorporates N-Gage gaming, FM transmitter, 5 megapixel camera with Carl Zeiss optics with geotagging capabilities, and three month integrated license for turn-by-turn voice navigation.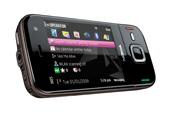 Director, Nokia Nseries, Juha-Pekka Sipponen, had this to say: "The Nokia N85 was created to be more than the sum of its parts, offering a complete mobile entertainment package designed for connecting, sharing and discovering. The iconic Nokia Nseries dual slider design has evolved to become smaller and sleeker while integrating the newest features and services to deliver the best mobile experience to date."
The Nokia N85 is expected to begin shipping in October 2008 with an estimated retail price of EUR 450, before taxes and subsidies.
At the same time Nokia also announced that the Nokia N96 is to become available on 3G HSDPA networks in American in the 4th quarter of 08. The Nokia N96 sports a 2.8 inch screen, compatibility with a range of video formats and 16GB internal memory.
Vice President of Go-to-Market for Nokia Americas, Bill Plummer, says: "Since the first Nokia Nseries device came to market in 2005, this range of devices has consistently represented cutting-edge technology combined with an unparalleled user experience. The Nokia N96 builds upon this tradition to bring mobility to today's most valuable Internet services. With support for movies, music, games, navigation and more right out of the box, the real power of the Nokia N96 is that it provides an open application environment for users to define their own mobile lifestyle."