JuiceCaster goes BlackBerry for limited time
JuiceCaster the app that allows a user to capture pictures and videos and share instantly on the user's favourite social network has just gone BlackBerry.
That's right, for a limited period only BlackBerry Curve owners can sign up to receive JuiceCaster on their BlackBerry smartphone. They can sign up for JuiceCaster at www.juicecaster.com/blackberry.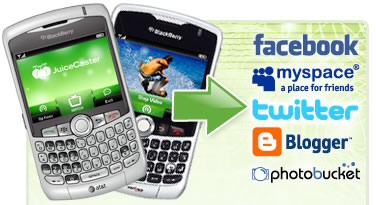 The free beta application is now available for BlackBerry Curve 8310 on the AT&T network, and the BlackBerry Curve 8330 on the Verizon Wireless network.
Also over the coming weeks, JuiceCaster will be opened up for BlackBerry pearl owners and also for BlackBerry users across Europe.
JuiceCaster allows the user to use such social networking sites via their mobile phones such as FaceBook, MtSpace, Photobucket, Twitter, Hi5, Blogger, Orkut and many others.
The application allows the user to post mobile video and picture updates directly to Facebook and Twitter; create unique custom groups (e.g. fantasy football, work friends, family) to send group video and picture messages to mobile phones, email, and online social networks; search and view videos and pictures on the Blackberry device; connect with friends in real-time, and interacting with new people on JuiceCaster; and exchange public and private multimedia messages on the go.
Source — slashphone