LG Samsung Sony Ericsson and the Megapixel Wars
The mobile phone megapixel wars are still in flow with LG's eight megapixel beast leaked onto the net waves and followed by Samsung's official unveiling of their highest spec camera phone so far.
The Samsung i850 is being pitched by the manufacturer as a compact digital camera and is to be exclusive to the Carphone Warehouse on the Orange network with a tariff of £35.00 per month as of September.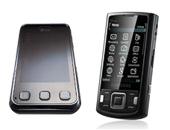 The LG KC910 is understood to be renamed the Viewty2 on release in a couple of weeks. The LG Viewty2 follows Samsung however it is much slimmer and is thought to be collaboration between LG and Dolby Labs.
Then we have the Sony Ericsson C905 another mobile featuring an eight-megapixel camera which was launched earlier in 08 and should be hitting shops quite soon.
So that's three top names in the mobile arena with 8MP camera phones all battling it out to be victor in the Megapiaxel Wars
Source — mobiletoday