Mobile sports app and new website design from CBS Sports Mobile
A new application, plans for a redesigned and improved mobile website, and a free mobile rich-media fantasy alerts service has been announced by CBS Sports Mobile.
Designed for the ultimate sports fan on the go, the CBS Sports Mobile Ultimate Sports Application brings the user headlines, streaming videos, live scores, stats, and entire control of CBSSports.com fantasy teams.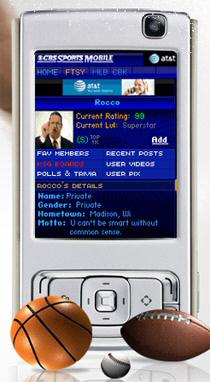 The CBS Sports Mobile Ultimate Sports Application also allows the user to locate other sports fans, talk smack with rivals on the message boards, and update personal profiles, across the CBSSports.com online Community.
The CBS Sports Mobile Ultimate Sports Application is completely customisable and the app will cost you $4.99 per month and can be accessed via 18 different mobile phones on the AT&T service.
CBS Sports Mobile also plans to launch a new redesigned mobile website using the latest Mobile 2.0 tech and bring a richer more advanced wireless experience to mobile sports fans.
They also intend to launch a fantasy mobile alerts service that allows users to receive instant updates on their fantasy players and tips amongst other things.
Source — intomobile