Apple iPhone mobile website launched by kbb.com
Kbb.com, Kelley Blue Book, the popular provider of new and used car info has announced the launch of their website which has been optimised for Apple iPhone users.
This free mobile website will not only supple the users of the Apple iPhone and Apple iPod Touch the latest information but they can also watch videos, view car images, car reviews, and also submit free dealer price quotes.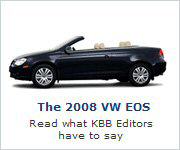 Andy Lapin of Kelley Blue Book's says: "Whether the shopper is sitting at home or standing on the dealership lot, they can easily locate Kelley Blue Book's new and used car information with a few simple stokes to ensure they are making the right choice and getting a great deal."
In other words, if you are an owner of an Apple iPhone or Apple iPod Touch who is looking to purchase a new or used car then kbb.com is the car resource to check out, and you can surf for that car while on the go.
Source — kbb via intomobile