BlackBerry Kickstart 8220 with Rogers for $149
Seems like Canadian carrier Rogers has let slip the pricing on the BlackBerry Kickstart 8220, and this image show the marketing material for said mobile phone.
Research In Motion's BlackBerry Kickstart 8220 is a flip-able handset, and as this advertising material states, the BlackBerry Kickstart 8220 is listed with a price tag of $149.00 with a minimum $35.00 plan that is of course on a three year contract.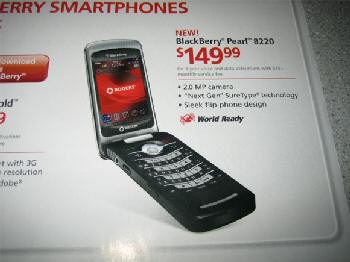 Seems a tad expensive, and there is no word on whether Rogers intends adding further price plans, rebates or deals. Maybe Rogers will drop this price a little later on, as a below $100.00 might be just enough incentive for people to actually consider the BlackBerry Kickstart 8220.
Although if you are intending on spending your hard earned cash on a BlackBerry, at that price maybe you may just give the recently launched BlackBerry Bold a thought.
Source — Crackberry via Engadget