Microsofts Scott Rockfeld talks to Fox Business: video
Scott Rockfeld, Group Manager of Microsoft Mobile Communications gave an interview on Fox Business and was quite forthcoming on the subject of Windows Mobile handsets.
Basically the context of the interview was "competitors to the Apple iPhone" which is sometimes a bit annoying because the Apple iPhone and Windows Mobile are not always heading for the same demographic.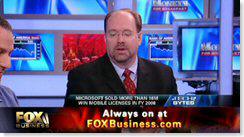 They speak about such smartphones as the BlackBerry, HTC's Touch Diamond, the HTC Touch Pro, and the BlackJack II, and avoid the Apple iPhone.
The Fox host called the Motorola Q "a bust" so kudos to him, although the Motorola Q did sell over the million.
Whatever, it is interesting to watch and learn about the message that is getting out to those people who don't actually use the net or don't read the mobile phone blogs. Seems there are such people out there in the big wide world after all.
Anyway, enjoy the video…