Sprint's Samsung Instinct available now at RadioShack
Starting today August 29, RadioShack are launching Sprint's Samsung Instinct nationwide, RadioShack will be offering a 4-day exclusive retail price of $99.99. So, if you are after one the Samsung Instincts we suggest this is the weekend to get it, the offer is to last all through the labor Day weekend, and is available for all new Sprint customers.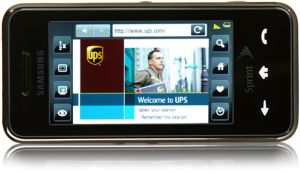 This Samsung Instinct has won awards, with its ability to access business and personal email, quickly browse the internet and share pictures with literally one tap of its touch screen, wow and double wow.
So looking closer at this handset we find that it has GPS navigation, and has a voice guided, turn by turn directions, and 3D maps, Stereo Bluetooth, Digital Voicemail, plus exclusive applications and content like Sprint Music Store" "NFL Mobile" and "NASCAR" Sprint Cup Mobile. To power up the Samsung Instinct it takes two batteries, and this gives you more than 11 hours talk time.
So, to recap RadioShack's exclusive $99.99 price for the Samsung Instinct is available for new customers who sign up for a new Sprint Simply Everything Plan, if you are an existing Sprint customer and want to upgrade your Sprint service it will cost you $129.99.
Source: Slashphone