Sprint roadmap leaked Touch Pro and Diamond dates and pricing
It appears that Sprint has had a nice chunk of their roapmap splattered across the net, and said roadmap is packed with interesting titbits of info.
Hanks to mouths flapping, most are aware that the HTC Touch Diamond and Touch Pro are both headed to Sprint, however, thanks to this leaked roadmap we now have the actual dates.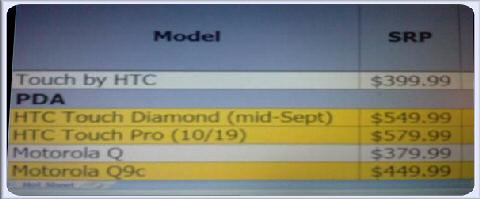 The dates Sprint will be seeing the HTC Touch Diamond is mid-September, and they will see the HTC Touch Pro on October 19th.
Also there are some pricing tags, such as $549.99 for the HTC Touch Diamond, and $579.99 for the HTC Touch Pro; apparently subsidised to $249.99 and $320.00 respectively, and on contract.
Of course this is taking this leaked roadmap on face value, and it could well be the work of an extremely bored Photoshopper, but it sure moves along with what is being touted over the net waves.
Source — wmpoweruser via wmexperts