RIM BlackBerry Curve 8330: Virgin Mobile Canada Price Info & Spec
It's official Research in Motion (RIM) have released the BlackBerry Curve 8330 in Canada on Virgin Mobile, and after the success of the BlackBerry Pearl 8130 its sure to be a smartphone all Canadians want to get their hands on.
There are a few Virgin Mobile Canada plans you can go for the cheapest is the 3-year plan you get the Curve 8330 for just $49.99, but if being tied to Virgin Mobile for 3 years scares you then you can opt for another package, if you go for the 2-year Virgin deal you get the BlackBerry Curve for $329.99 which is big jump in price, if two years is to long then try the 1 year plan and pay $379.99 for the BlackBerry alternatively if you don't like tie-ins at all you could go for the Virgin 30 day contract at $429.99.
You would then need to pay a monthly plan that comes as BlackBerry bundles starting at $15 per month which includes instant messaging and unlimited emails, for data packages for your BlackBerry Curve 8330 you will need to go over to Virgin Mobile Canada's website and check out the latest BlackBerry deals. Don't forget will Virgin Mobile you will get an 8GB memory card thrown in, although they do stress this offer is only whilst stocks last.
On your Curve 8330 you will find a 2 megapixel camera with video recording features, full QWERTY keyboard, a fantastic TFT LCD colour screen boasting 320×240 pixels and 65,000 colours, the BlackBerry Curve also comes with Bluetooth 2.1 A2DP Stereo BT and lots more.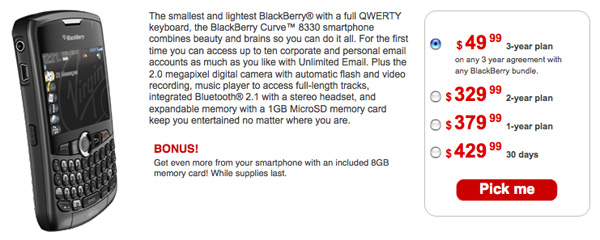 Source: intomobile