Palm Pre confirmed for Best Buy by Sprint Ad Banner
Well we did hear that the Sprint branded Palm Pre would be being offered by Best Buy, and now it appears that a Sprint Palm pre banner has now gone up on the Best Buy website confirms everythingpre.
Although apparently the Sprint Palm Pre banner only shows up when specifically searching for Palm Pre or Pre and there is no other information linked to the banner.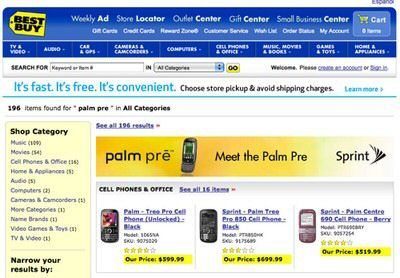 We were hoping there would be some promotional text link to it like a release date or maybe some confirmed price range and the like, but no. Although it obviously confirms that Best Buy will be selling the Palm Pre eventually.