BlackBerry Bold on AT&T gets official update
The BlackBerry Bold on AT&T is getting an official update according to CrackBerry, it may not be a huge update but at least this time it is an official update for the BlackBerry Bold smartphone.
Apparently the applications for the BlackBerry Bold are at version 4.6.0.167 that is up from 4.6.0.162, while the BlackBerry Bold platform gets updated to 4.0.0.217 up from 4.0.0.157.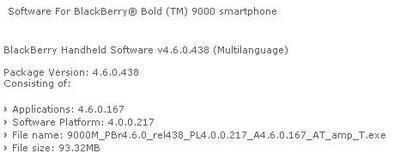 So there it is the BlackBerry Bold official update, which BlackBerry Bold owners can gain the software from http://na.blackberry.com/eng/update/, feel free to let us know how you get along with the new update and if you have any problems.