New iPhone 3GS vs. Palm Pre: 3G S 21 percent faster
And so the inevitable comparison battle between the iPhone 3G S and the Palm Pre is underway as anandtech compares to two smartphones in head to head tests.
The speed tests were done via loading a series of web pages and apparently show that the iPhone 3G S comes out on top of the Palm Pre even if they share very similar 65nm ARM Cortex A8 based innards.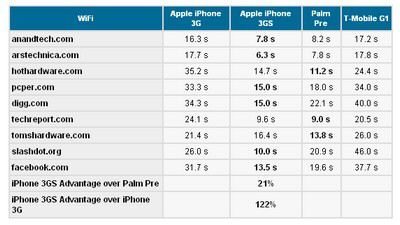 The result is shown that the iPhone 3G S comes out a nice clear 21 percent faster than its rival, which is a substantial percentage considering the similar hardware.