BlackBerry Tour pre-order now available with Best Buy
According to an article on Crackberry, prospective BlackBerry Tour owners can pre-order their BlackBerry Tour from Best Buy Mobile as of now.
The pre-order of the BlackBerry Tour with Best Buy will require a $50 deposit which will guarantee you get the much sort after BlackBerry come Sunday.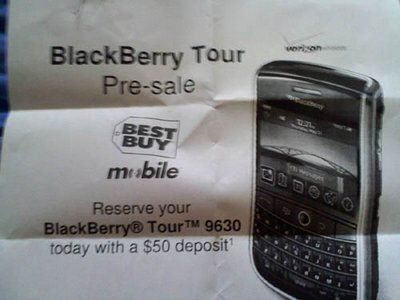 Apparently there isn't any notice of this up on the Best Buy website, so you will need to visit your local Best Buy Mobile store to pre-order your shiny new BlackBerry Tour smartphone on Verizon Wireless, so get a move on or miss out.