Telus BlackBerry Tour 9630: Pre-order at Best Buy Canada for $229.99
We have already reported that Verizon customers can now pre-order the BlackBerry Tour from Best Buy, and now courtesy of Crackberry we learn that Best Buy in Canada is doing the same.
Word has it that the Telus branded BlackBerry Tour 9630 is available for pre-order with Best Buy Canada with a price tag of $229.99.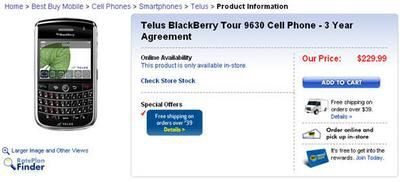 The Telus branded BlackBerry Tour 9630 online pre-orders will only be good for in store pickup though. Funny thing is the Sprint and Verizon BlackBerry Tour's still aren't showing up on BestBuy.com, which seem rather odd doesn't it?