Storm 2 Curve 2 and Motorola Droid for TARGET and Sam's Club
The guys over at the BGR have now got hold of an internal document which outlines merchandise, locations ad training of the Motorola Droid aka Sholes and Tao, LG Chocolate Touch, BlackBerry Curve 2 and the BlackBerry Storm 2.
It looks like Sam's Club will carry the Motorola Droid while TARGET looks to be left out in the lurch but the internal document does give us just about everything we need to know.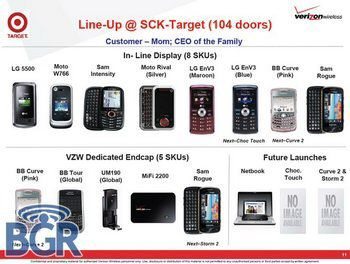 So it does indeed look as if Verizon Wireless, TARGET and Sam's Club is gearing up to lunch these handsets fairly soon.