GPS Motorcycle Accessories: iBike Rider for the iPhone
We now have iPhone GPS navigation for the car so what about motorbike riders? Well Wikimobi Inc have now announced the first "MOTO KIT" for the iPhone, which is an iPhone GPS accessory kit for motorbikes enabling the likes of motorcycle couriers to go about their business with the aid of iPhone GSP.
The iBike Rider for the iPhone is 100 percent waterproof and can be securely positioned to the motorbike handlebars or if preferred to the riders forearm, is extremely strong and shock absorbent, and can be used in the vertical or horizontal position.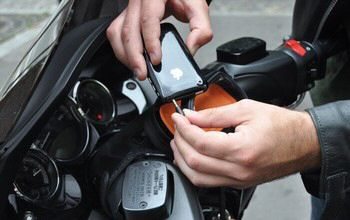 The iBike Rider for iPhone can also be complimented with the headset, and microphone enabling hands-free operation whilst communicating and enabling voice activated GPS warning radar. The iBike Rider for iPhone commands a price tag of €39/$57/£36 a further €39 for the battery and for the hands-free kit €29.
Is this product good or bad, the reason we ask this because surely you would have to take your motorbike gloves off to touch the iPhone's touchscreen, or do you think it is best to stop then make or recieve calls?
You can purchase the iBike Rider for iPhone via sowasygps.