Nokia 5230 XpressMusic gets pictured
Following the Nokia 5530 XpressMusic, Nokia recently announced the next in the line, the Nokia 5230 which apparently basically shares the same specs as the Nokia 5800 XpressMusic but with just a few slight differences.
Now the guys over at daily mobile have managed to grab hold of some live shots of the Nokia 5230 XpressMusic which sports the same 3G capabilities, touch screen, GPS receiver and 1320mAh battery as the 5800. There's also flash Lite 3.0, and Bluetooth +EDR and a 3.2 inch display.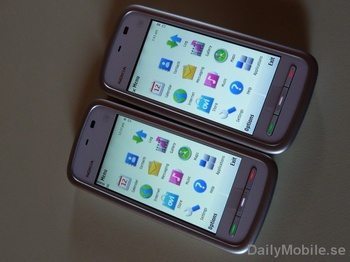 Although the Nokia 5230 drops the WiFi and swaps out the 5800's 3.15 megapixel camera with auto-focus for a 2 megapixel camera with fixed-focus, and apparently the Nokia 5230 is expected to surface in January 2010, so hit up the link for those live images.