Droid comes to Europe on O2 as MILESTONE
Looks like the Motorla Droid is making moves across the world as the Boy Genius Report posts the Motorola Droid is coming to Europe in GSM flavour and under the moniker of the Motorola MILESTONE.
Word has it via a German blog which apparently leaked the image of a business guide and official O2 Germany pricing list which shows the Motorola MILESTONE commanding a price tag of some €404.20 that's about $594.96.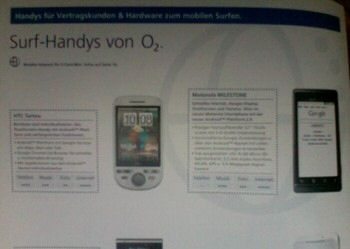 This is apparently official and not a rumour, so it looks like Europe will be gaining some GSM Droid playtime real soon, just a shame they couldn't grab an actual release date isn't it.