Motorola Droid 2 Handled and First Impressions
Zack is a summer intern at the Jet Propulsion Laboratory (NASA) and apparently attended a technology show on the lab and present where booths from Verizon Wireless, Sprint, Apple and Microsoft. No big deal until you hear that when Zack popped along to the Verizon booth and handled a mobile device which turned out to be the Motorola Droid 2.
According to Rosa Golijan of Gizmodo, Zack being a Gizmodo reader, once he realised the device was Verizon's next Droid offering, took the opportunity to snap a couple pf pictures and send in his first impressions of the Motorola Droid 2 smartphone.
The Verizon rep told Zack although they weren't too sure what the device would be called is was indeed the successor to the Motorola Droid. After spending some time handling the device Zack says it felt really nice in the hand and seems smoother than the original with less sharp edges and a lot more curves.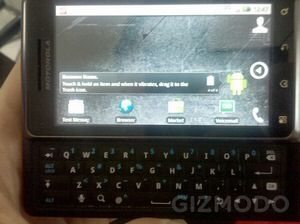 The Motorola Droid 2 camera is 5 megapixel, but id definitely faster than the original, and the device is a "dark chrome-like" colour rather than the original black while the soft keys are positioned differently and are touch sensitive.
The Motorola Droid 2 keyboard is wider with blue colouring rather than gold, while the directional pad now has four arrows and there is a button for voice commands. Android OS wise, apparently the Verizon rep said the Motorola Droid 2 would most likely comes with Android 2.2 Froyo, but if it does release with Android 2.1 it will be updated "very quickly."