Amazon UK Scraps HTC Desire HD aka Ace from Site: Why?
We reported a little earlier today about Amazon UK putting up details on its website on the HTC Desire HD aka Ace with details and price.
Well we want to know why Amazon has pulled the information from its site, they mention that the smartphone would cost £415 with free delivery, as said Engadget managed to get a screenshot just before they pulled the information from the site.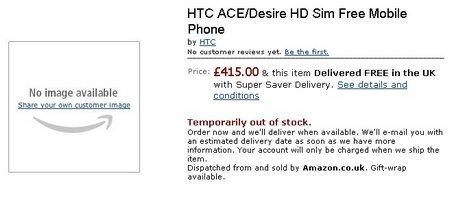 If you click on this Amazon UK link where the info was you will now notice a message saying 'Your search "HTC 99HLZ001-00 ACE/Desire HD" did not match any products'.
Please let us know why you think Amazon UK removed the HTC Desire HD aka Ace from its website, better still Amazon why don't you just tell us.