T-Mobile G2 Froyo Build: Vanilla Android not Sense UI
The T-Mobile G2 is getting a lot of exposure in the way of news and now there is news of the 'Froyo Build', many of you maybe asking what Android build the G2 uses; well here it is just for you.
AndroidGuys the lucky ones got their hands on a zip file that contained something that looks like Froyo for the G2, the spreadsheet that was found on the archive says that the kernel and bootloader versions were found as well.
The HTC G2 aka HTC PC1010000, now this is funny because yesterday we said the codename was HTC PC10100 and the reason this is funny because it now has a few extra 0's added to it. If you look at the spreadsheet below you can a few more details.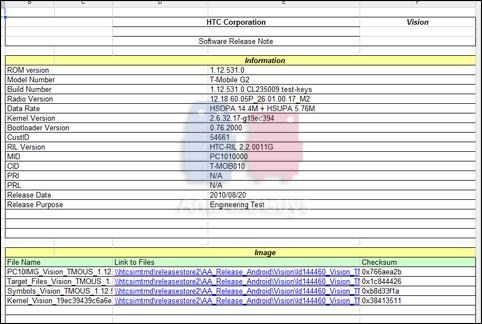 According to the source above Zapote21 confirms that it is just Vanilla Android and not Sense UI, for more information please visit source within this article. Please do post all your comments below