CEATEC 2010: NTT DoCoMo Plasmacluster Ion Emitting Mobile Phone
During CEATEC 2010 which is being held from the 5th to the 9th of October in Makuhari Messe, Japan, NTT DoCoMo was in attendance and for the first time showed off a new environmentally friendly mobile phone.
According to an article over on Aving by Joanna Kim, NTT DoCoMo has introduced their mobile handset which is called "Plasmacluster," yes I know that's quite a mouthful, but apparently the "Plasmacluster" mobile phone is an ion emitting device.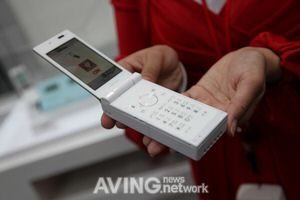 The NTT DoCoMo Plasmacluster appears to be a flip form factor handset and judging by the pictures is a reasonably thick device with six small rectangular holes at its base, one of which is where the ion is emitted.
Other than that though not much else has been revealed about the NTT DoCoMo Plasmacluster ion emitting mobile phone and there is no word on any release date or pricing.