Motorola Droid 2 Global Official Specs: Is Verizon Teasing Us?
There has been no official announcement as of yet to do with the next Verizon Wireless smartphone aka Motorola Droid 2 Global but yet some official specs have been released online.
We already reported this news this morning but we would like to know if you think Verizon is teasing us, there has been no official word from Motorola as of yet but still specs have been put up online.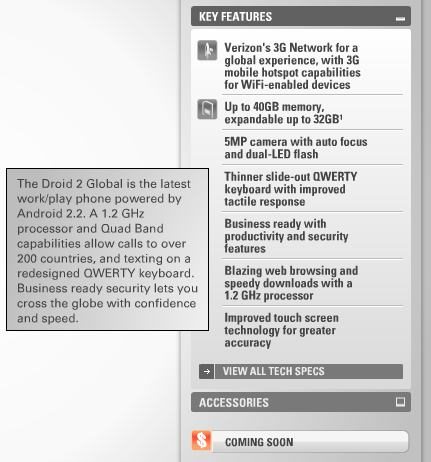 The Motorola Droid 2 Global Android 2.2 smartphone specifications includes a 1.2GHz processor, 5-megpixel camera with dual-LED flash and auto-focus, redesigned QWERTY keyboard, 3G mobile hotspot, it has now been listed up to 40GB of memory, 8GB built-in memory and thanks to the microSD card slot another 32GB of memory if needed.
Verizon or Motorola please do us a favour and give us official specifications, pictures, solid information and basically what ever you have to give. Please feel free to send us one for review.
Please keep coming back because as soon as we hear more info we will let you know for sure. Please do answer by voting your choice in our poll section.
[poll id="219″]
Source – Android Guys via BGR