Verizon HTC Merge aka Lexikon Photos: SIM tray and Keyboard
The Verizon HTC Merge aka Lexikon is a smartphone we learned about not so long ago and now there have been more photos put up online.
We will call it the HTC Lexikon like everyone else; the new photos reveal the SIM Tray and 4-row QWERTY keyboard, looking good as they say judging on the pics and specs.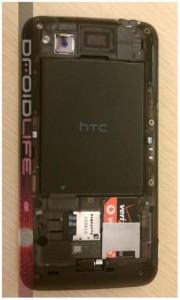 It goes to prove that the HTC Lexikon Verizon smartphone is an open phone, a world phone is has to be judging on it having a SIM tray, now lets take a peek at the main specs.
Main specs includes 4-row QWERTY keyboard, 3.8-inch 480×800 resolution display, 5-megapixel camera, Android 2.2 (Froyo), 512MB of RAM, 800Mhz Snapdragon processor and 4GB of built-in storage.
So far with the news we have up until today says that this handset will be very impressive, have to wait a little longer to see if what we say is correct.
Source — Droid-Life via Androiduys