O2 UK Samsung Diva Diamond S5150 Price & Specs
Call the Samsung DIVA Diamond GT-S5150 feminine or not but this mobile flip phone over on O2 UK looks very cute, they all say a diamond is a girls best friend.
The Samsung Diva Diamond is elegant and highly fashionable that makes a statement and comes with many features within that has to put down as sophisticated, this flip phone sure does take a fancy to the eye.
Main features Include: Social networking applications, Image editor (Lomo & Beauty effect), 3.2-Megapixel camera, comes with female themed user interface, female-centric themes and fonts, you can categorize all the things you want to buy in a Wish List and even dress the handset with trendy accessories.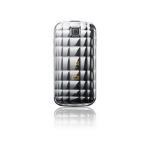 The handset also has stunning sparkle effects with glittering LED that is hidden on the cover of the phone and when it illuminates it twinkles to show the time.
Now if you visit the O2 UK coming soon section you can see more pictures etc, and the shopping section of O2 UK has this £150.00 Pay & Go phone as out of stock. However, if you visit eBay you can buy the O2 PAYG phone for £155.00.
As soon as we get more information about the Samsung DIVA Diamond GT-S5150 mobile phone we will let you know. Hope you like it! You can see full specifications via Phone Arena