Top 10 Best iPhone Camera Accessories for Photography
As with most smartphone cameras, they are okay for snapping that quick, off the cuff picture when you are caught on the spur of the moment, but when it comes to getting that more professional snap, the smartphone needs a little help from the accessories line, including the iconic iPhone.
Taking that special picture or video without a decent accessory probably won't turn out that professional unless you have something to steady that slight hand shake, or have a lens that can get up real close, and thus the guys over at Mashable have come up with 10 unique iPhone photography accessories.
So if you are big into using your iPhone camera here are those 10 accessories that will help gain that more professional photo or video, although of course you won't need them all but one or two may go a long way to beefing up your iPhone image taking prowess…
Okay iPhone photo mechanics, here we go with the first option for your consideration being the iPhone Tripod Holder, although there are several other tripod holders available out there the attractive thing with the iPhone Tripod Holder is it's reasonable price and delivers a sturdy mount with brass threads for securing the attachment to your iPhone. The iPhone Tripod Holder costs just $9.95 plus $3.00 S+H from iphone-tripodholder.

If you are in the market for a more major accessory and have a few bucks to throw at it then the Qwle Bubo may be up your street. The Owle Bubo brings to your iPhone several features such as ergonomic design, more camera-like experience, external microphone, 4 tripod mount points, integrated cold shoe and full size lens. Now for that price, for the iPhone 4 the Owle Bubo costs $169.95 while the iPhone 3G and iPhone 3GS version costs $159.95 from Wantowle.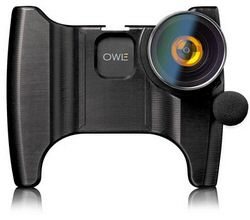 Next up is a foldable tabletop stand called the Flip-Cage with iPhone 4 Mount, although this tabletop stand is also for the iPhone 3GS which can be used as both a desktop stand to watch videos or make that FaceTime call or used as a tripod and the mount is also detachable for use on other tripods. The Flip-Cage with iPhone 4 Mount will set you back $38.90 from Gary Fong eStore.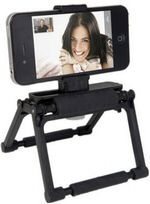 Then we have the Factron Quattro Cases which add leather and metallic to your iPhone so your device looks and feels like a real camera, and also adds the ability to change lenses, there are 5 lenses available, each sold separately while each case is constructed in "duralumin" and available in 15 finishes and colours. The Factron Quattro Cases aren't cheap though at roughly $220 from Factron.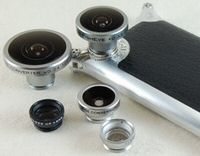 Halfway there and we have the Zacuto Zgrip iPhone Jr. Handgrip, which is basically a handheld grip to stabilise your iPhone when snapping those images or video, and features a thread so the device can be fixed to a tripod when the need arises and can also have a light attached. The Zacuto Zgrip iPhone Jr. Handgrip is a less intricate version of the Zacuto Zgrip Cinema Kit and has a lower price tag of $69.00 from Zacuto.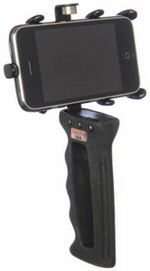 Next up is a lens for your iPhone in the form of the USBfever's Special Effects Lenses, which are a reasonably priced line of detachable lenses such as macro, telescopic, fish-eye, and wide angle so there is a varied choice with a varied range of prices from $13.00 up to $22.00 from USBfever of course.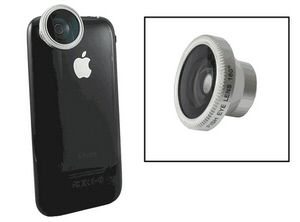 One for your iPhone 3G and iPhone 3GS now in the form of the Griffin Clarifi, case which features a resolution boosting built-in lens that delivers instant finer detail to close up and macro shots, and if you want to take a normal shot the lens can be slid to the side. The Griffin Clarifi case for iPhone will set you back $34.99 from Griffin Technology.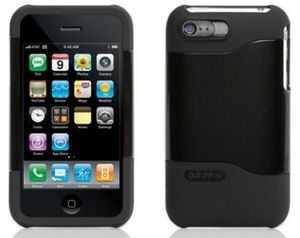 Moving on to another tripod we have the Joby GorillaMobile for iPhone 4, which features a standalone bumper case with a detachable and flexible tripod for adjustable positioning so you can get the right angel and can also be used as a desk stand, and still give the protection of the bumper case. The Joby GorillaMobile for the iPhone 4 commands a price tag of $39.95 from Joby.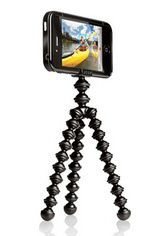 Almost there we have the ZoomIt SD Memory Card Connector, which is a dock that comes with a free application and enables the user to view and share their collection of photos along with other files without the need to connect the device to a computer, so if you are out and about without a PC or Mac you can still share all your gear. The ZoomIt SD Memory Connector is available from ZoomIt Online at a price of $59.95.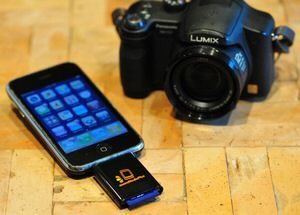 Last but not least we have the Glif, which is a device that allows the user to mouth their device to a tripod while also using its kickstand as an angle prop. The Glip isn't available just yet but you can pre-order the accessory which costs $20 from The Glif, and just so you can check out the Glif we have a video of the device for your viewing pleasure below.

So there you have it, ten iPhone camera accessories to add that little professionalism to your picture or video taking. Of course there are many more iPhone camera accessories available out there, and if you have one of your own favourites you'd like to add to this list feel free to do so by posting a comment below.