Verizon LTE HTC Thunderbolt 4G Gets Pictured
Only the other day we found out that the new HTC 4G enabled device destined to play nice on the Verizon Wireless LTE network would be called the HTC Thunderbolt 4G, and now before its unveiling several images of the device have hit the net waves.
According to an article over on Engadget by Chris Ziegler, the guys over at Droid-life have somehow managed to get hold on several pictured of what they say is the Verizon HTC Thunderbolt 4G smartphone.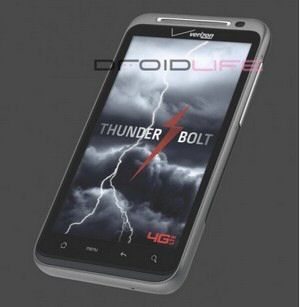 They say it resembles the HTC Desire HD but with Verizon branding and is obviously the Big Red's answer to the Sprint HTC EVO 4G. The HTC Thunderbolt 4G sports a little surprise behind that Google branded kickstand as well which looks to be a speaker grill.
We're not too sure where they got hold of these pictures, but it's nothing unusual for a new device to be photographed and displayed on the net before it comes out to play, so is probably the real deal.
Any of our readers hoping to snap up the HTC Thunderbolt 4G once it hits so they can surf the Verzion 4G LTE network?