Samsung WEP475 Bluetooth Headset Exclusive Mail-In Rebate
Christmas has passed and now we are 5 days into the New Year of 2011 and this is when the bargains begin, today we will chat about the Samsung WEP475 Bluetooth Headset.
You can bag yourself the Samsung WEP475 headset with exclusive $20 Mail-In Rebate, which means you pay a mere $19.99 via Woot, now that is cheap for a good headset.
The Samsung WEP475 Bluetooth headset features up to 6 hours talk time, up to 200 hours standby time, manual and automatic volume control, dedicated on and off switch, detachable crystal clear ear hook, you can even wear it on either your left or right ear.
If you fancy getting this headset for under $20 please visit source above, the image below shows the mail-in rebate form that you download from here. Please do let us know if you already own this headset as we would love to know if it is a good purchase or not.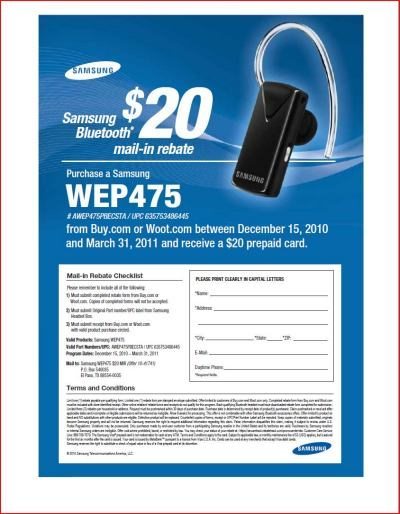 We thought we would have a little look around and have found a few places where you can get it slightly cheaper, for example if you visit Nationwide Discounts you can buy it for $14.71, Discount Direct Deals is selling it for $15.18 and Amazon is selling it for $18.24.
Those of you in the UK can purchase this Bluetooth headset via Phone Digs for £22.50 or NAR Mart for £12.14. Enjoy and Happy New Year