Apple iPad and iPhone Accessories: iChair Multipurpose Case
For those of you with an iOS device that may be on the lookout for a case that suits your iPhone and Apple whilst giving the ability to act as a stand for viewing your videos, movies and the like there is the iChair case for iOS devices.
iChair introduced the iChair Multipurpose case for the iPhone, iPod Touch and Apple iPad today and is a evice which enables the user to view their iOS device whilst propped up on its "durable stand." The iChair case is rubber coated with a microfibre inner lining with a slim profile and integrated stand which folds in and out with ease.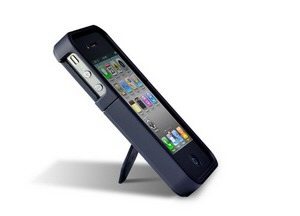 The iChair Multipurpose case is constructed from high quality lighweight materials with the stand allowing for both portrait and landcape viewing and features 3 stable clicks for optimal viewing angle whilst delivering the best protection for your device.
The director of marketing, Shefali Sedey says…"In designing iChair, we kept simplicity and functionality at the forefront of our strategy.Utilizing the highest quality materials, locking mechanisms and advanced manufacturing techniques, we produced a product that provides ultimate functionality, sleek looks and is sure to be a case your iDevice can't live without."
The iChair case comes in black with the choice of a blue or white top slider case, screen protector, squeegee board and dust cloth. Price wise the iChair for Apple iPad costs $49 while the iChair for iPhone costs $34 from goiChair.
There is also a quick commercial video for the iChair for your viewing pleasure which can be found on the iChair YouTube page showing the iChair in action or you can check it out by hitting up the CES 2011 demo video below which comes our way courtesy of TheSnazzyiPhoneGuy …enjoy.