Sony Ericsson Publishes Q4 and Full 2010 Financial Report
If you are one that likes to keep abreast of the financial status of smartphone companies you may like to know that Sony Ericsson today published their fourth quarter and full year 2010 report.
In the report it shows that Sony Ericsson has had four profitable consecutive quarters during last year shipping 43.1 million handsets in 2010 with sales of 6,294 Million Euros.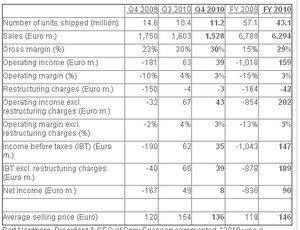 The president and CEO of Sony Ericsson, Bert Nordberg has said…"2010 was a turnaround year for Sony Ericsson. Our four consecutive quarters of profit reflect the success of our shift towards an Android-based smartphone portfolio. We will celebrate the 10th anniversary of the creation of Sony Ericsson in 2011, and as shown by the recently announced Xperiaâ"¢ arc, we will continue to focus on delivering the most entertaining smartphones worldwide."
Excluding restructuring charges, income before taxes was 189 million Euros for the complete year 2010, this is compared to a loss of 878 million Euros in 2009.
Apparently the approximate 1.1 billion improvement is due to the success of higher end smartphones along with an improved cost structure, and gross margin was up to 29 percent in 2010 as opposed to 15 percent in the year previous.
Sony Ericsson shipped 11.2 million units during Q4 which is a year-on-year decrease of 23 percent which was consistent with streamlining their portfolio to concentrate on high end devices.