Samsung Galaxy Tab Price Drop in US and UK
If you are an Android fan and have been considering purchasing the Samsung Galaxy Tab but have thought it was a tad on the expensive side, so have been holding off, now might just be the time to head out and pick up the device.
Why? Because according to an article over on Android Police and by way of Tmonews, as of today the 26th of January you can pick up the Android 2.2 Froyo packing Samsung Galaxy S for a lower price.
Apparently over in the good ole US of A, the Samsung Galaxy Tab with a 2 year agreement on T-Mobile will now cost $249.99 after a mail in rebate of course, which lowers the price by $50.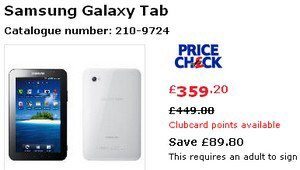 And apparently the Samsung Galaxy Tab is also seeing a price drop over here in the UK as apparently Tesco has now dropped the price of their Samsung Galaxy Tab down to £359.20 from the previous price tag of £499.00, saving you £89.80 and you get club card points too.
So if you do happen to be in the market for a Samsung Galaxy Tab it appears that now would be a good time to consider making your purchase.