iOS Apps Now Get Previewed on Twitter
If you own an iOS device and download iOS apps to your iPhone, iPod Touch or Apple iPad, you need to hit up the App Store to check out what apps you are looking for; however it appears that now you can get a preview of iOS apps via Twitter.
According to an article over on iPhone Download Blog, the guys over at Macgasm are reporting that Twitter has now integrated App Store app previews into their system, which contain links to the previewed app.
So basically anyone that tweets a link to the App Store, Twitter will show your tweet with a screenshot of the app along with the app description and thus enables easy viewing of apps in tweets.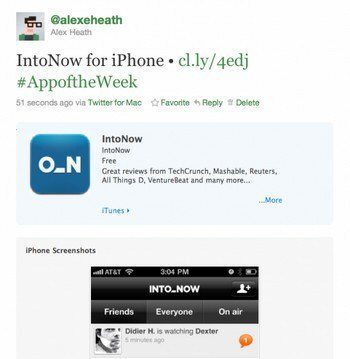 The guys tried out the new App Store Twitter integration by posting a test tweet and the image above is how it shows up on Twitter; however apparently the preview is only available when clicking on a tweet through Twitter.com and not by clicking a link within your timeline.
So what do our iPhone and Apple iPad users think of this new feature on Twitter, will it cut down on your visits to the App Store or do you think it's just a flash in the pan?