Samsung Galaxy S 4G Now Torn Apart As Well
Well it seems the teardown guys have been hard at work as not only was the Motorola Atrix 4G the subject of a teardown the other day to display the smartphones innards, but also now it appears the Samsung Galaxy S 4G has joined the internal displaying game.
According to an article over on Intomobile, those rip apart guys over at iFixit have been at it again and have disassembled the Android 2.2 Froyo Samsung Galaxy S 4G handset.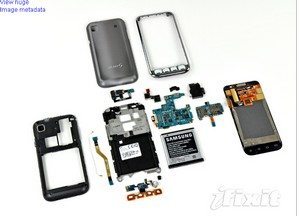 The latest version of the Samsung Vibrant for T-Mobile is virtually a replica of the original Samsung Galaxy S but with the excption of a Sony Ericsson Thor M5730 mobile modem allowing the Samsung Galaxy S 4G to play nice on T-Mobile's HSPA+ network.
Apparently other components, which were originally constructed in aluminium, have been replaced by magnesium to make the Samsung Galaxy S 4G stronger and lighter, while the touch screen controller is the one and the same found in the Motorola Atrix 4G.
For those that enjoy seeing what is exactly inside a smartphone the iFixit guys have their teardown of the Android smartphone over 3 pages including numerous images and they say the Samsung Galaxy S 4G scores a 6 for reparability with 10 being the easiest.